Archive for the 'Events' Category
July 18th, 2012 by belladia
It is Summer and that means it is time to start thinking about your GSDBA Directory Ad for 2013! We're offering a special this year:
If you order your ad design before August 17th, we'll write your Basic Line Listing for FREE – possibly the most frustrating part of the directory process for business owners. It is really hard to communicate the essence of your business is such a small space, but that is what we do best!
Call 858-220-7478 or email us to get started!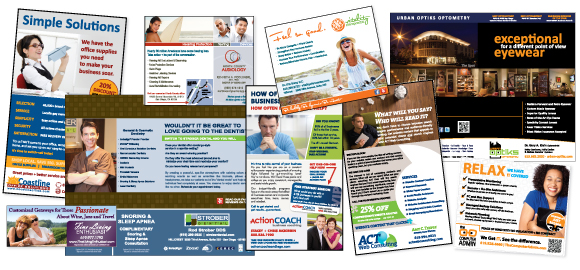 ---
April 29th, 2011 by belladia
It is that time of year again! Time to start thinking about your GSDBA Directory ad for 2012! Get a jump on creating your 2012 GSDBA Directory Ad and get a FREE Strategy Session!
Your Strategy Session may Include:
Determining Your Unique Selling Proposition
Defining Your Target Market
Differentiating Your Business from Your Competition
Writing a Guarantee that Takes the Risk Out of Buying
Crafting a Compelling Offer
Creating a Cohesive Message for All Your Marketing
Tracking and Analyzing Your Results
We Guarantee that your ad will be designed to spec and delivered on time to the GDBA office or we will pay your re-submission fee!
> Click here to fill out the order form and redeem your Free Strategy Session!
---
February 11th, 2011 by belladia
We had such a great time at the SDGLN Scavenger Hunt mixer last night and met so many warm and friendly people!
When we first started our business, we were terrified to go to mixers and networking events, as many people are. Who wants to be dumped into a room full of strangers and hand out business cards? But soon after we lost our salesperson, we were forced to – even if we'd rather stick a fork in our eye. Two things that changed our minds about networking were going to events regularly and finding a group that embraces you. For us, the GSDBA (Greater San Diego Business Association) and the SDGLN (San Diego Gay and Lesbian News) community have been nothing but a pleasure to be a part of. Once we started going to events, we starting seeing the same people and actually having fun! Now we look forward to going to mixers because we know we will see our friends and the business connections we make come easily because we are relaxed, confident and enjoying ourselves. Networking will work for your business, check out a few different organizations, find the ones that fit your business and your personality the best and then go and have fun!
Happy Friday!
-Lisa
PS If you business is located in the Hillcrest area and/or Gay and Lesbian friendly, I can't recommend highly enough joining the GSDBA and listing your business in the SDGLN Equality Directory.
Below: Jessy and Melissa from Lullababes at the SDGLN Mixer
---
October 15th, 2010 by belladia
As many of you know, we are clients of one Stacey McKibbin, our kick ass business coach (who will often kicks our asses when we slack off). She is holding a eye-opening education seminar on October 22nd. Not only will you learn areas to improve your profitability over the long term, you will learn how you can increase your bottom line right now!
Powerful Business Education from Stacey McKibbin, Profit Strategist & Top ActionCOACH Certified Business Coach
October 22nd 7:30 am – 8:00 am: Networking & Registration*
8:00 am – 10:00 am: Workshop
* Complimentary light breakfast provided
Click here to register for this FREE workshop: http://actioncoach.com/staceymckibbin/promo/5ways
We hope to see you there!
Lisa
---
August 27th, 2010 by belladia
There is nothing more frustrating than spending a lot of money on something and not knowing what, if anything, you get in return. This is how a lot of small business owners feel about marketing and advertising – but it doesn't have to be that way!
If you have a marketing pieces that you have been using and you are not getting the response you want, send it to us. We will review the ad for free and give you suggestions for changes that could increase the response you get.
Click here to upload your ad >
---
May 20th, 2010 by belladia
So far Brad Sugars has taken his "Business is Booming" seminar to 18 cities across North America, and on Friday, May 28th, it's our turn in San Diego!
Check out this video to see what others are saying about this once-in-a-lifetime event.
Best of all, there's no charge to attend!
Do not miss out on your chance to be at this seminar that can move your business to the next level!
If you have not done so already, reserve your complimentary seat today at www.businessisboomingtour.com/register.html
Using Ticket Code: SM001
We look forward to seeing you at the "Business is Booming" seminar!
Friday, May 28th
9:00am to 12:30pm
The Marriott Hotel
11966 El Camino Real, San Diego, CA
---
May 19th, 2010 by belladia
Our friends at ActionCOACH are offering their GrowthCLUB Business Planning Workshop on June 4th. This is a great opportunity to take an objective look at your business, find areas that aren't as strong as they should be and implement ways to strengthen those areas. The details are below. If you sign up by Friday you get 50% off the registration fee! Hope to see you there!
GrowthCLUB Business Planning Workshop
One day every three months, you have the chance to step out of the business and get focused. We'll work with you to map out a winning game plan for the next 90 days. Plus with practical application and expert training, you'll get back to your business with clear direction and new tools to achieve your goals faster.
Massive Action Means Massive Results! By the end of this intensive day, you'll walk away with …
Take home strategies to build your profits right away.
A ready-to-implement action plan.
A network of business contacts to work with.
The skills and the tools to get more done in less time.
A clear understanding of what is working in your business, what isn't….and WHY.
Event details:
Where:
Doubletree Hotel
11915 El Camino Real
San Diego, CA 92130
When:
June 4th, 2010
09:00 a.m. to 3:00 p.m.
(optional networking mixer immediately following)
Register by Friday, May 21st to take advantage of this early bird registration price of 50% off, and attend for $199 (regular price $399).
Click here to register online or contact us with any questions.
Happy Wednesday!
-Lisa
---
March 22nd, 2010 by belladia
The GSDBA's spring mixer is at the 'Beach' at W Hotel. We are excited to check out this cool location and hand out lots of business cards! See you then!
Refreshments, Cool Sophistication and Networking.
Thursday, March 25th
6:00 to 8:00 pm
At The 'Beach' Mixer @ W Hotel
$10 members | $25 guests
421 West B Street, San Diego, CA 92101 (at State Street)
Valet Parking Available: $16 per car. Self Parking lots and metered parking available.
Check out the postcard we designs for the W!
---